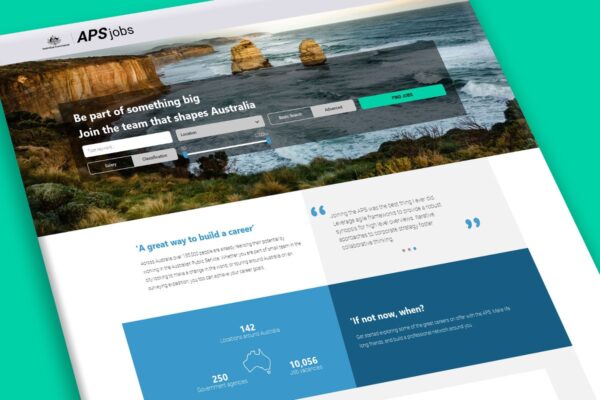 Overview
Provided with an initial design concept of the home page, I was tasked to redesign the job search interface and carry the design concept through to other pages in the site.
Job search
The job search interface is key to the APS jobs website purpose. By first understanding the technical and business requirements, I was able to create a use case. I then moved to roughing out the elements and confirmed the functionality with the project. Once hi-fidelity screens were created, I user tested the designs and integrated feedback. This was followed by a second round of user testing, this time A/B testing, to confirm the change and make any final tweaks.
Design elements
A range of advanced functionality was used to create a flexible and optionally detailed search parameters that could easily be adjusted on the fly. This included:
Keyword search,
Basic / advanced search toggle,
Salary / APS classification toggle,
Salary range slider,
Drop-downs allowing for multi-selections, and
Individually deletable filters to alter results without conducting a new search.
Defining all elements
It was essential to define the appearance and functionality in detail. This information needs to be conveyed to developers after signoff, and usually the best way to do this is by presenting the visual design.
Final design
The final widget design allows for filtering by a range of criteria, selecting multiple options of the criteria selected, then selecting a given time period. The selected data can then be exported in PDF or Excel format.